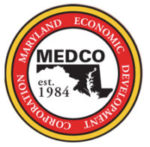 Maryland Public Health Laboratory Project
$123,500,000
Maryland Economic Development Corporation
Lease Revenue Refunding Bonds
(Maryland Public Health Laboratory Project)
Series 2021
INTRODUCTION
The Maryland Economic Development Corporation (MEDCO) is a corporate body and an instrumentality of the State of Maryland. MEDCO's purpose is to attract new business and to encourage expansion of existing businesses in Maryland through the development, expansion, and/or modernization of facilities.  In fulfilling these purposes, MEDCO owns and leases certain properties and makes loans to organizations that require financing to acquire or develop properties.
PROJECT OVERVIEW
In 2011, MEDCO issued its Series 2011 Bonds to fund the developing, building and equipping of the Maryland Public Health Laboratory (the "Health Lab").  Located at 1770 Ashland Avenue in Baltimore, Maryland, the Health Lab is part of the Science and Technology Park @ Johns Hopkins.  The Health Lab is leased to the State of Maryland for use by the Maryland Department of Health (MDH) and serves as the "Central Laboratory" for the Laboratories Administration of MDH.  Proceeds of the Series 2021 Bond were used to refund the Series 2011 Bonds and to fund transaction costs.
FINANCING OVERVIEW
In 2019, Wye River identified an opportunity to refund the Series 2011 Bonds for savings (with such savings being passed on to MDH in the form of lower lease payments).  However, because the Series 2011 Bonds were not currently callable, and tax-exempt advance refundings were abolished in 2017, the proposed refunding would require alternate financing structures including "Cinderella" and forward-delivery bonds.  Wye River assisted MEDCO and MDH by providing comparative analysis of its financing alternatives and conducting simultaneous competitive solicitations for financing proposals from both commercial banks ("Cinderella" bonds) and investment banks (forward-delivery bonds).
Ultimately, MEDCO and MDH elected to proceed with a 1-year forward-delivery issue because it produced the highest level of debt service savings (approximately $1.8 million annually, $19.9 million in total and $18.8 million on a net present value basis).
The financing was structured with a matching maturity and no change to the security or covenants applicable to the original Series 2011 Bonds.