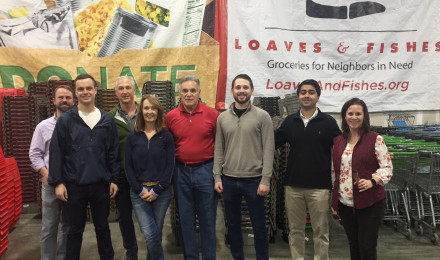 Employees as Engaged Citizens
Volunteerism is a part of our company's culture and represents a lasting commitment to improve the communities we serve. What began as a conversation among a few employees seeking an opportunity to give back to the community has evolved into a firm-wide program assisting a variety of not-for-profit organizations. Service projects provide our employees with opportunities for leadership development, team building, and community awareness.
Recently, a team of First Tryon employees worked on a Friday morning to help organize food supplies in the Loaves & Fishes warehouse. Loaves & Fishes provides a week's worth of nutritionally balanced groceries to individuals and families experiencing a short-term crisis through a network of 35 emergency food pantries located throughout Mecklenburg County. Last year, Loaves & Fishes provided groceries to over 77,600 people; 46% were children.